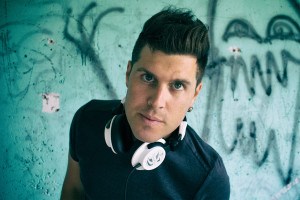 GRAY
GRAY ( Erase Records | Whore House | Baci | AREA 94 | Prison Entertainment | TeddyBear | Samui | Jango | Koolwaters ) http://www.dj-gray.com // booking@dj-gray.com
An energetic blend of deep house, indie, nu-disco & tech-house music, which makes you feel good.
Performing all over Slovenia, Europe (United Kingdom, Germany, Czech, Belgium, Spain, Macedonia, Croatia..) and continuing his journey overseas with 1st performances on WMC 2013 in Miami, USA including First O­cial WMC Electro Swing Party! He's been playing alongside acts Mark Knight, SNAP!, ATFC, Danism (Dan Liquid), Timmy Vegas (Soul Central), Beltek, Deetron, Siamus Haji, TAVO, Black Legend, Gary Caos, Nihil Young, Lady Lago, Ben Long (Space DJ'z), Trevor Rockcliffe,  Adam Jay,…
Lately focusing on house productions with his latest development — house label called Wawaviva Records—he has gained huge support across the globe!
Productions from GRAY were played / supported by the biggest artists in the industry: Marco Carola, Paul Van Dyk, Markus Schulz, Baggi, Erick Morillo, Sascha, Matt Darey, John Digweed, Eddie Halliwell, Kevin Saunderson, Fedde Le Grand, Danny Tenaglia, Dr. Kucho!, Paco Osuna, Lützenkirchen, Niki Belucci, Groovebox, TAVO, Filthy Reach, jUANiTO, Joy Kitikonti, Danism, Hertz, Christian Varela, Victor Palmez, to name but a few.
His professional success continues with releases on labels: Universal Music, Erase Records, Whore House, Baci Recordings, AREA 94, Prison Entertainment, TeddyBear, Jango Music, Koolwaters, Natura Viva, Heavenly Bodies, Jungle Funk Recordings, Conkrete Digital, phD – Phonetic Recordings, Blanco y Negro / Vendetta, SuperCharged Mjuzieek, Check-In Recordings, Nervous Records / DJ Mag, Ibiza Ibiza Records, Ambassade, Attractive Music, Jesus Love Records, 1980 Recordings, Moonshake Records, Family Grooves, GaGa Records, Wawaviva & More…
His tracks were remixed by: Wayne Dudley, TAVO, Pedro Delgardo, Allan Banford, Elton D, Miche & Mirzinho, Section One,Greg Kobe, Psm & Kinetic Soul, Max Cooper, Adam Jay, Erwin Creeg, Flash Golden, Digital Soul, Reex and more, while one of his tracks was featured on a mixed CD from techno pioneer, inventor of remixing – Kevin Saunderson (May 2007, Explicit Musick) and more tracks on other compilations: Pedro Delgardo – Digital Lifestyle (Yin Yang Records), So Intense! – Volume 1 (RockitWave8) – mixed by Deekron, WMC 2009 sampler from 2Delicious Recordings included track DJ Gray feat. Karol – Movin' On (Electro Mix). One of his early tracks "That's all Folks" was currently feature in DJ MAG's – 20 YEARS ON THE DANCEFLOOR – Mixed by Danny Tenaglia ! New tunes are appearing now on countless new compilations. In 2014 there were 6 compilations with tracks from GRAY / DJ Gray on TOP 100 Releases on Beatport and latest tracks are reaching TOP 100 House Chart on Beatport as well!
Remixes for US pop / dance / rnb group Anything But Monday (from who's one of the girls is now superstar female singer Nayer) charted No.10 and No.11 on US TOP 50 DANCE, competing with tracks from Rihanna, Madonna, Pink, Britney Spears, Mariah Carey, Lady Gaga, Pussycat Dolls, The Killers, DJ Dan and released on Universal Music (USA)… and remix for Roxanne – Bad Little Girl track charted NO.1 on US TOP 40 INDIE CHART, released on HartecastMusic!
Latest podcasts:
http://www.dj-gray.com/my-music/mixes
Booking info:
booking@dj-gray.com or call +386 70 897 888 (ENG, SLO)