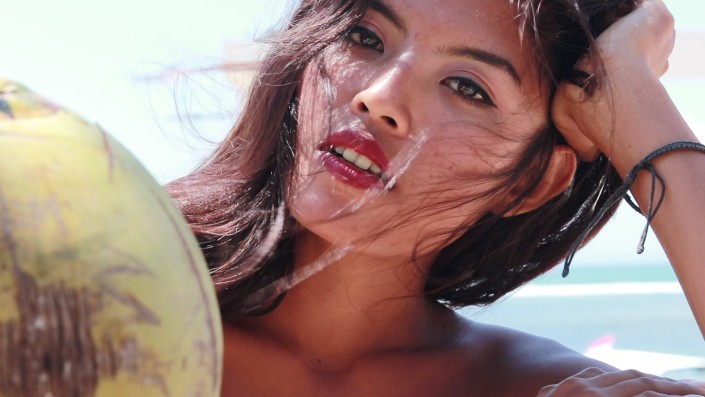 Tita Rosita "Lookin' Good" enjoying a day at the beach
(See the entire video on the VideoCast page https://hartecastmusic.com/videocast/)
Everybody Wants To Look Good, Exude Confidence… Don't You?
The beauty industry is a multi-billion dollar industry! Humans all over the globe from all cultures adorn themselves to look good. Here in the western world we spend big bucks on nips and tucks, hair coloring and styling, manicures/pedicures, diets and fitness, teeth whitening, not to mention fashion, shoes, make-up, etc
Why wouldn't we spend money on these look good, feel good items? Afterall, our culture, as do others, promotes certain images of what lookin' good is suppose to look like. Some of these beauty conceptions or misconceptions are changing but basically the big bucks of the beauty industry still revolve around the thin, fit, symmetrical features although plump, larger lips are in, have been for a long time, and are probably here to stay.
Attractiveness equals power! Supermodels make huge dollars, the really successful ones, make millions of dollars promoting beauty for their clients. We live in a capitalistic society where money equals power. If you have the looks, you have a better than average chance of making good money no matter what line of business you're in, beauty or otherwise; good looks are marketable!
When it comes to being a supermodel– the ones we hold as the epitome of beauty– there is more to being a super model than looks. Let's be honest, models have to know how to make the best of what they have by knowing how to look, move and project for the camera or the catwalk. However, you don't have a chance to  to be in front of the camera or walk the catwalk if you don't have the looks; looks will get you through the door.
The "Lookin' Good" song and video are about what the title states, "Lookin' Good". The song was co-authored by Felecia Harte and Steve Krchniak. The lyrics written by Felecia Harte state, "I know, you know, we know, I'm lookin' good!" When we're lookin' good, we're feelin' good and we exude a certain confidence that others respond to.
Speaking of responding, the model in the video, Tita Rosita, is someone who makes an emotional connection with the viewers! Tita has what was referred to earlier about models having that quality to project. She not only projects but captures every frame of the camera! Tita Rosita has "it" that star quality! See for yourself when you click and watch the "Lookin' Good" video!  Tita makes wardrobe changes throughout the video but many viewers find that the bikini photos are their favorite as they are somewhat revealing but artistically presented.
The filming of the video is spectacular! Jernej Graj of JG Design does a wonderful job. Filmed on an exotic island, the cinematic imagery and vivid colors are beautiful. The theme of the video, the song with its lyrical content are all about lookin' good so it is only apropos for the visuals to equal to its title and Jernej Gray does a fabulous job of this!
Indulge yourself, take a break and watch the "Lookin' Good" video; to watch the entire video on Youtube, click the link https://youtu.be/X2GkAouAL1M. You might find yourself lookin' good and feelin' good!
The "Lookin' Good" MP3 download is available now on HartecastMusic.com's SongCast page click link here:  https://hartecastmusic.com/songcast/
OpenPR Press Archive; How do you feel when you're lookn' good? press release; 09/15/2018

HartecastMusic.com–Where Music is Living– is the site that clicks!
~from the Harte
– Sept. 15, 2018 – OpenPR: https://www.openpr.com/news/1237259/How-Do-You-Feel-When-You-re-Lookin-Good.html