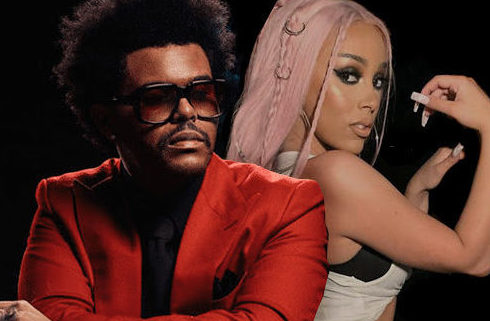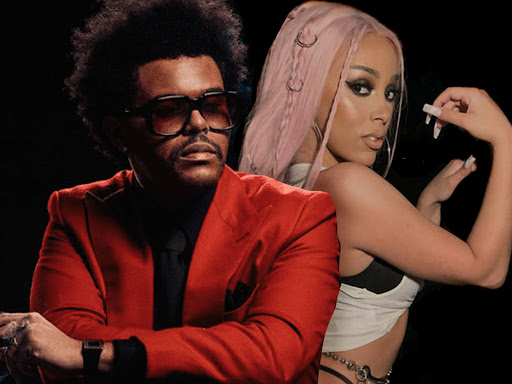 After carving out several remixes for his After Hours album, The Weeknd returned early Thursday morning (May 21) with easily the biggest one of them all: an "In Your Eyes (Remix)" with Doja Cat.
Welcoming Doja to his funky playground, The Weeknd allows the multifaceted star to shine on the song's second verse. After combing through the entrancing soundscape with her feathery croons, she switches into rap mode before allowing the XO star to regain momentum on the hook. "I can't stop staring at you / It's like I forgot that staring is rude / And that's what five shots could turn me into / But you've done most things that
gentlemens do" she raps.
Doja is coming off her first Hot 100 No. 1 with "Say So" featuring Nicki Minaj. In a recent interview with Billboard, the Hot Pink star explained how the mega collaboration with Minaj emanated. "It was a conversation, kind of, for months," she said. "And I was like, 'I'd love to have her on a song. I know my fans would love to have her on a song. I always get tweets about it, so.' It just happened. They did hit me with like, 'Hey, guess who got on
your song?' And I'm like, 'Oh my God.'"
Fans looking for more starry collaborations with Doja should buckle up, as she and Ariana Grande also have a record on the way. "I'm obsessed with her. I love her," Grande told Zane Lowe on his Apple Music show earlier this month.
"I was able to work with her earlier this year on this song that I want to save for whenever it's time again, to drop," Grande revealed. "I love her personality. I love what she brings to the table musically. She's just such a
breath of fresh air. I think she's brilliant and so talented. … We did this song together towards the end of last year and I love it so much. I remember when I first wrote it and sent it to her, she was in the shower and she was
like, 'B—h, I love this. I'm in the shower.' And I was like, 'Shower. You can call me back.'"
Listen to The Weeknd's "In Your Eyes (Remix)" here
May, 2020 by Carl Lamarre/Billboard