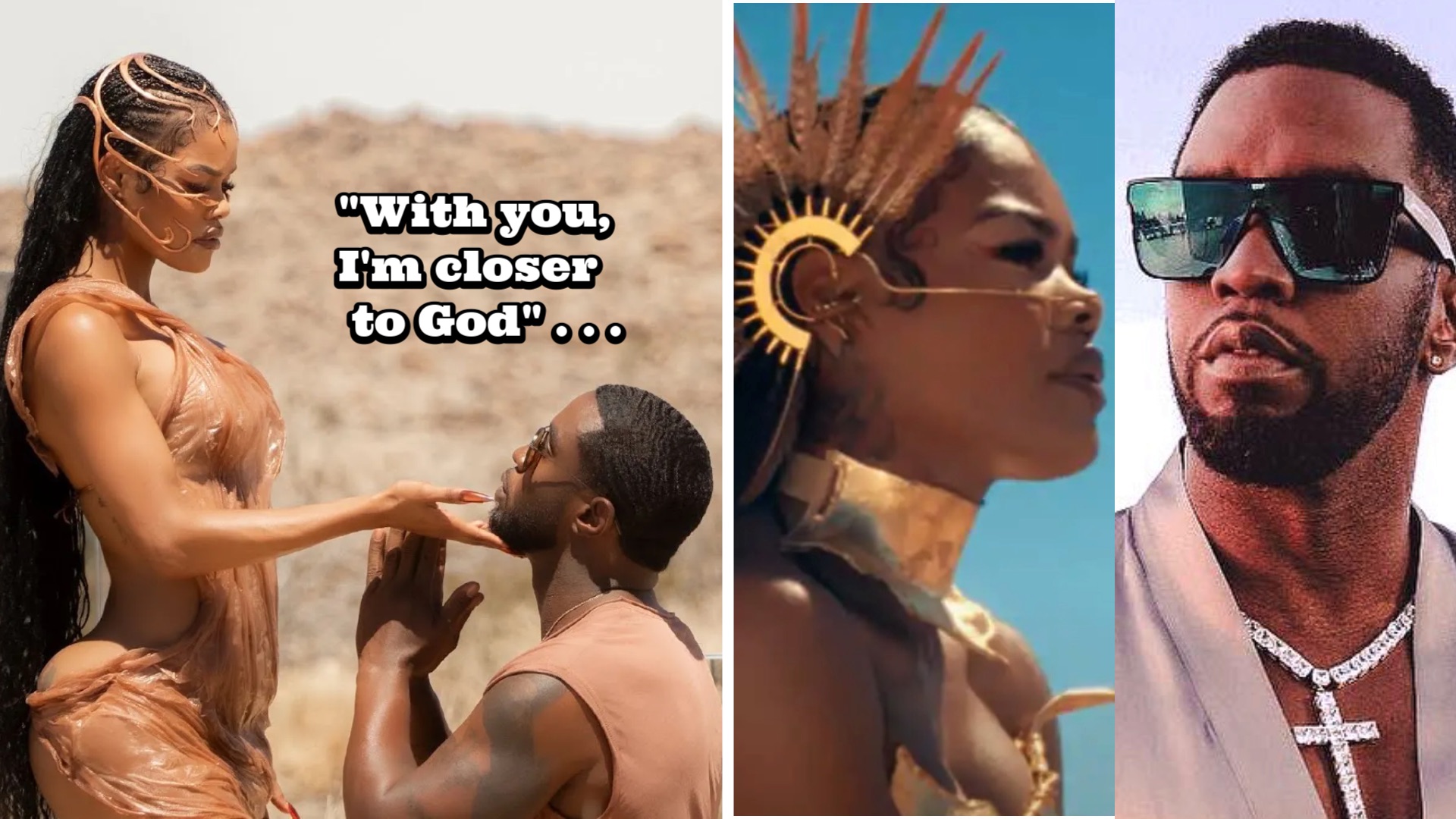 Diddy and Teyana Sizzle in the Desert!
The track hails from Diddy's The Love Album: Off the Grid.
Diddy and Teyana Taylor play a pair of lovers separated by the vast expanse of a desert in their video for "Closer to God," release.
The video, directed by Taylor, kicks off with a shot of several islands floating in the sky, draped with chrome elements. The scene then cuts to a dry desert with Diddy walking around to see where he can find Taylor, but the two struggle to meet.
"I'll be ya future baby mama, teacher, lover, friend/ While I'm all of the above, you know I can't pretend/ I'll be your lioness, I'll post up in your den/ I, sing it, bae/ Oh-oh, oh, I/ I get closer to God when I'm with you," Taylor passionately sings.
She wears an array of ornate and sculptural outfits in shades of gold, copper and vibrant red as she passionately sings atop a horse — the sole thing that keeps them tied together, as Diddy is seen riding the same horse throughout the desert. The pair ultimately reconnects by the end of the video.
In a press release for the video, Diddy praised Taylor's artistry and work ethic. "Teyana is not just an incredible artist, she's my sister," he said. "She has this undeniable force and raw emotion she brings to every project. When we began conceptualizing 'Closer to God,' her name was at the forefront of my mind. I had to convince her to come out of retirement, but I knew she would perfectly capture the spiritual essence and depth of the song. Collaborating with her on both the song and its visual was like harmonizing with a kindred spirit. Together, we've created something truly special."
Of hopping on the project, Taylor said, "Working on 'Closer to God' was a spiritual journey in itself … The song's message of love and divine connection resonated deeply with me, and visually representing that was a beautiful challenge. I believe we've created something that will touch people's souls."
"Closer to God" hails from Diddy's The Love Album: Off the Grid. The set has so far reached No. 19 on the all-genre Billboard 200, and No. 5 on Top R&B and Hi0-Hop Albums.
By Starr Bowenbank for Billboard 10/2023